Fall 2005 - Spring 2006
Programs and Events
---

September 16, 2005 (Friday)
SOCIAL/BBQ DINNER
Location: St. Margaret's Chapel, Henderson KY

We will again begin our new season with a BBQ dinner and social. Following the meal, some of our chapter members will talk about summer conventions and travels related to the organ or church music.
6:00 p.m. Social/Dinner
7:00 p.m. Program
Contact Kathy Herdel at krh49@hotmail.com to make reservations for the meal. There is no charge, but you are invited to bring a side dish, salad or desert (meat and soft drinks will be provided). The events will will be in the St. Margaret's Chapel in Henderson (remote meeting facilities of Holy Name Catholic Church). Take Watson Lane east at the northern-most traffic light on the Highway 41 (north) business strip in Henderson. Go about a quarter of a mile on Watson Lane and turn left into the driveway at the "Holy Name of Jesus Catholic Church" sign in the yard on the left.

---

October 15, 2005 (Saturday morning)
CHURCH MUSIC WORKSHOP
Location: University of Evansville, Neu Chapel
9:30 AM to 12:30 PM

Co-sponsored with the University of Evansville AGO and the University of Evansville. Sessions from which to choose include:
Enhancing Your Service Playing Skills
Choral Repertoire: Easy Anthems
Preparing for the AGO Service Playing Certificate
Children's Choral Programs
New Hymns for Worship
A service of Morning Prayer will be part of the day's events. Leaders include Neal Biggers, Daniel Craig, Kristin Jones, Wayne Peterson and Douglas Reed. A registration fee of $10 includes all sessions and materials. Contact Helen Reed, workshop organizer, at hsr@evansville.net or (812) 476-0673 for more information and to register.

---

November 19, 2005
ORGAN CRAWL: DUBOIS COUNTY, INDIANA
We will see and play organs at St. Joseph Catholic Parish in Jasper, Indiana; the Monastery of the Sisters of St. Benedict in Ferdinand, Indiana; and Salem United Church of Christ in Huntingburg, Indiana. We will also be eating lunch at the famous Snitzelbank restaurant in Jasper. Email Neal Biggers at nealbiggers@yahoo.com for lunch reservations or more information.

Schedule (Dubois County will be an hour ahead of Evansville time.):
Carpool leaves Bethel UCC in Evansville 9:30 am (CST)
Salem, Huntingburg 11:30-12:30 (EST)
Schnitzlebank 12:45-1:45 (EST)
St. Joseph's, Jasper 2:00-3:00 (EST)
Ferdinand 3:30-4:30 (EST)
Optional stop at Christkindlmarkt festivities 4:30-?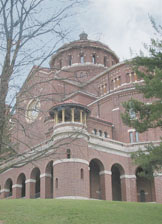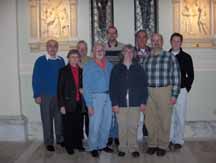 ---

January 22, 2006
POST-EPIPHANY PARTY
As a change in plans from our original January program, our chapter members and guests are invited to a Sunday evening meal and social time at the home of our Dean, beginning at 6:00 p.m. Meat and drinks provided, covered side-dishes welcome. RSVP by January 20 with Tricia Clark at tclark4525@yahoo.com. Contact Doug Reed at dr5@evansville.edu for directions.

---

February 20, 2006 (Monday--President's Day)
PEDALS, PIPES AND PIZZAS:
A Keyboard Adventure for Young People
Location: St. Mark's Lutheran Church, Evansville
Are you a student age 10 or older?
Have you been playing the piano for any length of time?
Would you like to spend the morning of Presidents' Day 2006 seeing, hearing, and playing some real pipe organs?
Do you like to eat pizza?
THEN PLAN TO ATTEND PEDALS, PIPES, AND PIZZA 2006!
Click here for more information and a reservation form.

---

March 18, 2006
MAMIE DUFFORD YOUNG ORGANISTS' SCHOLARSHIP AUDITION
Location: St. Mark's Lutheran Church, Evansville. Click here for more information about auditioning for this scholarship for organ study for young organists of high school age or younger.

---

April 23, 2005
ORGAN RECITAL: Vincent Dubois
First Presbyterian Church, Evansville
Our AGO chapter will be co-sponsoring this event with the University of Evansville and the U.E. Chapter of the American Guild of Organists, and will host a reception following the recital. Vincent Dubois was the Gold Medal winner in the Calgary International Organ Festival. Click here for more information on the guest performer.

---

May 8, 2006
ANNUAL CHAPTER DINNER AND INSTALLATION SERVICE
Join our local chapter on this Monday evening for social time and dinner, a chapter meeting for the election of officers and a review of the activities of the chapter, and a service of installation of officers.

---
---
RELATED COMMUNITY EVENTS:
September 25, 2005 at 7:00 PM
Matt Dickerson, Organ
St. Anthony's Catholic Church
704 First Avenue
Evansville, IN
October 4, 2005 at 7:30 PM
Ed Parmentier, Harpsichord
University of Evansville
Wheeler Concert Hall
1800 Lincoln Ave
Evansville, IN
October 23, 2005, 3:00 P.M.
Helen Reed, Organ:
J. S. Bach's Neumeister Chorales
Eastminster Presbyterian Church
5501 Washington, Evansville
November 6, 2005, 7:00 P.M.
"A Year in an Hour" Hymn Festival
First Presbyterian Church, Evansville
For more Information: 812-423-6297
November 13, 2005 at 3:00 PM
Tom Drury
St. Mark's Lutheran Church
2300 Washington Ave
Evansville, IN
November 20, 2005 at 2:30 PM
Luba Tkachuk, Senior Recital
University of Evansville
Wheeler Concert Hall
1800 Lincoln Ave
Evansville, IN
February 26, 2006 at 3:00 PM
Delbert Disselhorst
Methodist Temple
2109 Lincoln Ave
Evansville, IN
March 5, 2006 at 3:00 PM
Rudy Zuiderveld
St. Mark's Lutheran Church
2300 Washington Ave
Evansville, IN
April 8, 2006
Master Class with Robert Clark
Evansville
Place and time T.B.A.
April 21, 2006
Vincent Dubois
Salem United Methodist Church,
202 East 4th Ave
Huntingburg, IN
---

Program Archives:
2004-2005 Programs
2003-2004 Programs
2002-2003 Programs
2001-2002 Programs
2000-2001 Programs