Go to bottom of page for: Related Community Event, Exec Committee Meetings and Program Archives
---
•
"Favorite Voluntaries"
Monday, September 23, 2013
Presenter: Mark X. Hatfield
Location: St. Mary Catholic Church in downtown Evansville.

Beginning at 6pm, followed by dinner at Rí Rá Irish Pub
in downtown Evansville.
• AGO Certification/Keyboard Skills Workshop:
Monday evening October 21, 2013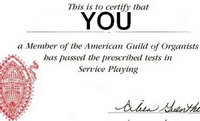 Location: Eastminster Presbyterian Church, Evansville, beginning at 7:00 p.m.
If you have questions, please contact Helen Skuggedal Reed at hsr@evansville.net .
• A Winter Social
will be held on January 12, 2014 at 5pm, at the home of Jenni Taylor. RSVP to Carolyn Adams at
lcadams_1@juno.com
or (812) 423-5209.
• Improvisation Workshop by Dr. John Schwandt,
February 22, 2014
Location: First Presbyterian Church, Evansville, 1:30 p.m.

• A Pedals, Pipes and Pizza event will be held in Henderson
Saturday morning February 22, 2014 at Holy Name of Jesus churches.
Flyer/Registration form.
• Bach-a-thon, Sunday March 9, 2014
beginning at 4:00 (CDT) p.m.
at First Presbyterian Church in Evansville

(Note: rescheduled: new date, new location, new time, plus Daylight Savings Time starts on this date).
Donations will be accepted at the door. Feel free to stay for all or a portion of the program.
• Historic Organ Concert on Sunday April 6, 2014
at 4:00 p.m.
Location: First Presbyterian in Mount Vernon, IN
Celebrating the centennial anniversary of the installation of the Moller organ.
Performers include our chapter members Carolyn Adams,
Neal Biggers, Dennis Carr, Kevin Ellerbusch, Sean Holleran and Helen
Skuggedal Reed. There will be a reception after the program provided
by members of the church.

•
Monday May 5, 2014. Dinner/Chapter Meeting/Recital, at St. Lucas UCC in Evansville.
5:30 p.m. Social gathering
6:00 p.m. Dinner
6:45 p.m. Business Meeting
7:15 p.m. Installation Service

Dinner will be prepared by members of St. Lucas and dinner reservations should be made with Shelley Heil at smheil76@yahoo.com or 812-598-6203.
RELATED COMMUNITY EVENTS

To submit information about a community event for this page, please email our web master at
nealbiggers@yahoo.com
.
September 24, 2013: Dr. Douglas Reed in recital at the University of Evansville.

This program will mark the 50th anniversary of the installation of the Holtkamp organ in Wheeler Concert Hall.
It will also feature the world premier of an unpublished set of three pieces by William Albright.


October 25, 2013: Award-winning improvisor Robert Nicholls
will accompany a silent film,
in the spirit of Halloween, on the Fisk organ at the First Presbyterian Church in Evansville beginning at 7pm.


February 21, 2014: John Schwandt will accompany Cecil B DeMille's King of Kings

at 7:00 p.m. at First Presbyterian Church, Evansville


Noon Prayer @ Neu: Meditation with Music;
Third Thursdays at 12:10 pm in Neu Chapel, University of
Evannsville; Refreshments following. Music provided by:
• September 19, 2013: Douglas Reed
• October 17, 2013: Tom and Andrea Drury
• Novembver 21, 2013: Mark X. Hatfield
• January 16, 2014: Robert Nicholls
• February 20, 2014: Neal Biggers
• March 20, 2014: Rachel Bennett and Henry Maurer
• April 17, 2014: Douglas Reed


March 30, 2014: To Hear the Music: The Story of Charles Brenton Fisk and the C.B. Fisk Organ Company

Come and learn how a brilliant 18-year-old nuclear physics student who worked on the Manhattan Project and helped build the detonator of the world's first atomic bomb ultimately focused his attention on pipe organ building and making music and what this has to do with the University of Evansville and the historic Tinker Memorial Organ. For more information about Charles Fisk and the video: http://www.tohearthemusic.com . Harkness Hall, Room 162 in Schroeder School of Business Building, University of Evansville. For more information, contact Douglas Reed, DMA, University Organist, dr5@evansville.edu, 812-488-2877


March 30, 2014: Spring Concert, First United Methodist Church, Henderson KY, 4pm.

Music by Vivaldi, Bach, Vaughan Williams, Vanover, Robert Ellis and more.
Performers include Helen S. Reed, Carol Dallinger, Daniel Craig and the FUMC Cantata Choir and Orchestra.


April 6, 2014: Tinker Memorial Concert,
Neu Chapel, 6pm.


University of Evansville
Concert Calendar.

Evansville Philharmonic Orchestra Website.
Southern Indiana AGO Chapter (Louisville area) Events: http://www.siago.org/calendar.html

----------------------------------

EXECUTIVE COMMITTEE MEETINGS:

The Executive Committee generally (but not always) meets on the first Monday of each month at Eastside Christian Church, Weinbach at Bayard Park, at 5:30pm. Chapter members are welcome to attend a meeting to share ideas, suggestions, or concerns with our chapter's officers.
Program Archives
Evansville Chapter of the American Guild of Organist home page