GIESECKE ORGAN HISTORY:
This organ was built in the Evansville shop of Göttingen-born organbuilder Edmund Giesecke (1845-1928), and installed in St. John Lutheran Church in Maribel, Wisconsin in 1889. St. John Lutheran Church, built in the 1860s, was a wood-framed church and the Giesecke organ was installed in the rear gallery. In 1925 the organ was moved into St. John's new brick church building. The 1925 move corresponds with the cessation of dated graffiti on the back pipes, presumably provided by "pumping boys" who left their signatures and the dates on the bass pipes. (Information provided in part by David Wagner, Elder at St. John Lutheran Church.)
In 1962 the organ was donated to St. Timothy Lutheran Church, a "mission church" in Maumee, Ohio.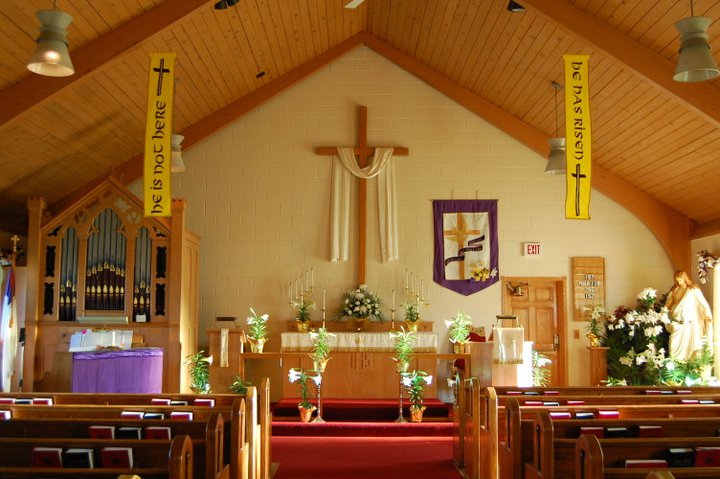 Photo of former St. Timothy Church chancel, as posted on Hosanna Lutheran Church's Facebook page in 2011

St. Timothy Lutheran merged with Arlington Avenue Lutheran Church of Toledo OH in 2011, becoming Hosanna Lutheran Church, which eventually moved to a new location in Monclova OH.
The Evansville chapter purchased the organ in 2016 from then current owners of the former St. Timothy church building who were planning to convert the building into housing. Evansville chapter member Helen Skuggedal Reed played a crucial role in making contacts, gathering information and encouraging the Evansville chapter and wider community to embrace this restoration and relocation project.

Restoration was completed by Taylor and Boody Organbuilders in 2018, in memory of Helen Skuggedal Reed.
The Giesecke organ can currently be heard and played at First Presbyterian Church in Evansville.