ZION UNITED CHURCH OF CHRIST
OWENSBORO, KENTUCKY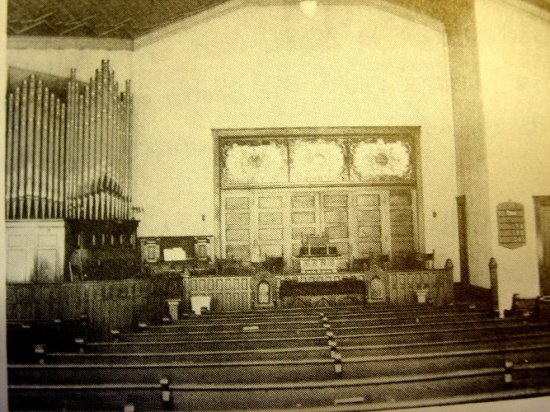 Sanctuary after 1922 renovations.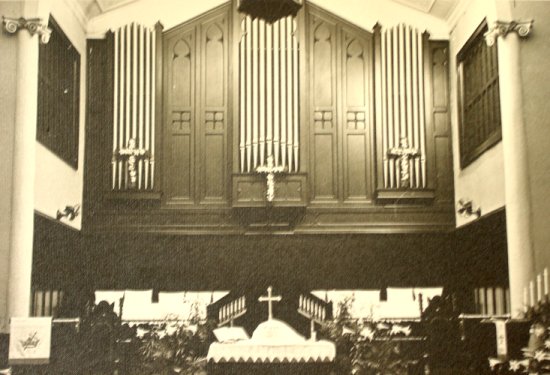 Sanctuary after 1929 renovations.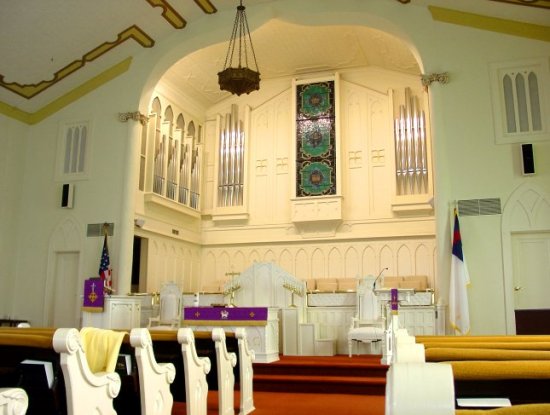 Sanctuary in 2009

---
The first organ in this church was a melodeon purchased in 1874 for $185.

The first pipe organ was installed in 1909 by Edmund Giesecke of Evansville. It probably contained eleven ranks. Half of the $2025 cost was provided by the Carnegie Foundation. Originally the Giesecke organ was powered by a water motor. It was "electrified" in 1922.

The organ was rebuilt and enlarged in 1929 by the Hillgreen-Lane Company of Alliance, Ohio. Eight new ranks of pipes were added and a three-manual console was installed, along with chimes and a harp stop. All the pipes from the 1909 organ were included.

In 1974 the organ was again rebuilt and enlarged by Glen Underhill of Underhill Organ Service Company in Vincennes, Indiana. Some ranks from the Kilgen organ of First Baptist Church in Owensboro were included along with ranks from an organ at Eden Seminary, for a total of 24 ranks and 1557 pipes. This organ was dedicated on February 9, 1975 with an afternoon service and concert by Robert A. Luther, then the organ professor at the University of Evansville.

Around the early 1990s a new organ was built by the Randall Dyer and Associates of Jefferson City,
Tennessee

(Opus 59) containing 3 manuals, 18 ranks, 1200 pipes. 281 pipes from the former organ were included. The cost was $150,000.


Summary:
1874 Melodeon
1909 Giesecke Organ
1929 Hillgreen-Lane Organ
1974 Underhill Organ
1990s Randall Dyer Organ
---
Information from The Rev. John Schroeder, former Pastor; from Gary Dugger, church historian; and from church archives. Old photos from church archives.
---
Return to Organ Page