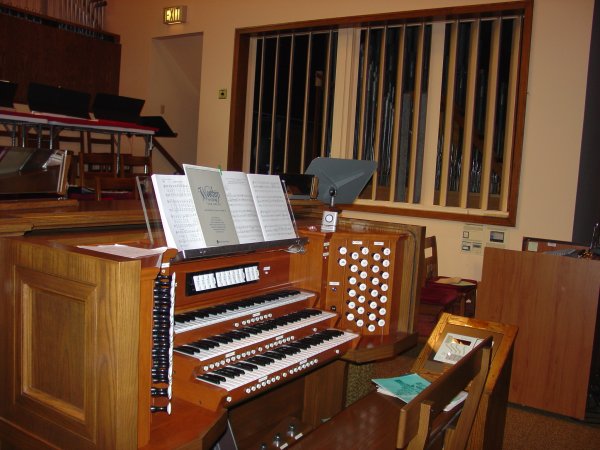 Bethel United Church of Christ
Evansville, Indiana
Wicks Organ Company

3 Manuels
35 ranks

The Wicks pipe organ at the old Bethel Church on the corner of Jefferson and Garvin near downtown was sparingly repaired in the late 1970's after water damage from a rain storm. The pedal keyboard had to be repaired and some minimal repairs on the pipes and wind chests were completed. Shortly after, it was decided that the church would build at a new location on Green River Road. The building was completed in 1981, and the bid for moving the organ was awarded to the Wicks Organ Company. In July 1986 work was completed on a new console and some building alterations to better accommodate the organ.

In April of 1991, Hugo and Elsa Schuesslers, long active in Bethel's music program, were remembered by their family members with the addition of a 4' Mixture stop. In December, 1991, the Clifford Kleymeyer family presented a Carillon addition in memory of Clifford. This carillon can be played on the Great of the organ with full range of the keyboard, and can be heard both inside the sanctuary and outside the church. A carillon computer was organized so that bells could be recorded and played by a clock mechanism at appointed hours.

The most recent adddition was the 8' and 4' hooded trumpets, with exposed pipes, which can be played on the Great, Choir, and Pedal keyboards . This addition was in memory of James Ritter and Norman and Edith Ost. This was completed in December 2005 by Sam Bowerman of Louisville. This instrument now has 2700 pipes and is a 35 rank, 3 manuel Wicks Pipe Organ.

-Information graciously offered by Dorothy Bray-Seibert, former Organist at Bethel